About Superior Floor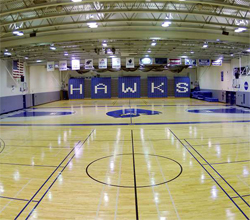 Superior Floor Company, Inc. continues to lead the sports floor industry in the development of state of the art sports floor systems. Real world experience combined with precise scientific design and testing gives Superior Floor Company, Inc. an uncommon advantage.

The staff at Superior realizes that it isn't enough to just manufacture top quality hardwood sports floors. That's why we have a technical support staff available to answer all of your questions. We can help you decide which floor system best suits your specific performance and budget requirements. With our complete line of hardwood maple and synthetic sports floor systems, you can find exactly what you are looking for at Superior.

We also realize that no sports floor system can be complete without a proper installation. As a result, we are very particular about who can install Superior sports floors. To ensure proper installation, we have a nation-wide network of factory trained and certified installation technicians. Each technician must complete an in-depth course at our manufacturing facility in Laona, Wisconsin.

Whether it's a gymnasium, squash/racquetball court, fitness center or dance floor, the choice is clear - Superior Floor Company is setting the standards. Those standards are maintained throughout our entire line of hardwood maple sports floors and our synthetic sports floors, accessible through the flooring system guide.

Superior sports floors also provide trouble-free installation and maintenance. From start to finish, when you need top quality sports floors, you only need to know one word ... Superior.
---
---